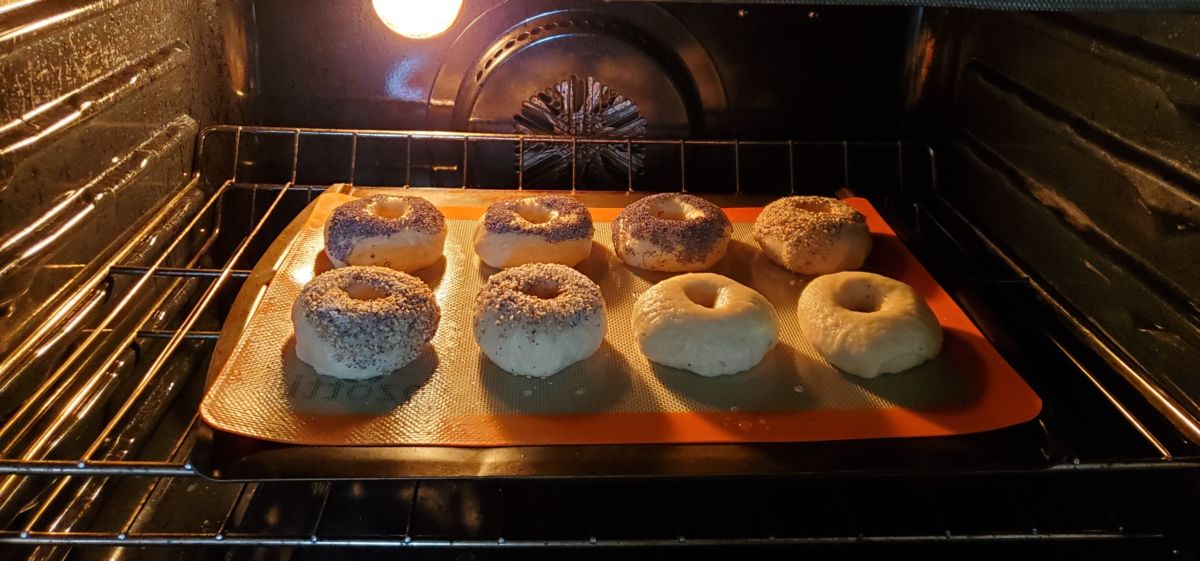 Bagels. Sourdough style, cuz that's how I roll. (Ooh, maybe I'll make rolls next.) It took me forever to try making them, because we have our favorite local bagel place already and I'm all about supporting local businesses. Well I finally did it. Man is it fun!
Bagels are Easy
They look all fancy, not just molded into the normal bread-shaped blob. But do it! Baaaakkkeeee baaaagggggeeeeelllllsssss. Push your finger through those bread domes and twirl it round your fingers – wee!
While the baking process is multi-step (you boil them before baking, I know, weird), it's one of the quicker sourdough recipes I've done. Mixing the dough 1 hour before bed and then wake up the next day to shape, rest, boil, and bake which takes about 1.5 hours the next morning. And let me tell you, eating bagels straight out of the oven is DELICIOUS.
I used Emilie Raffa's recipe since she's always been a reliable starting point for new sourdough recipes. These are very rounded and the holes close up, but from the recipes I've seen, that seems to be how it often goes when using a sourdough starter for your yeast. Don't worry, they are still very, very yummy!
https://www.theclevercarrot.com/cookbooks/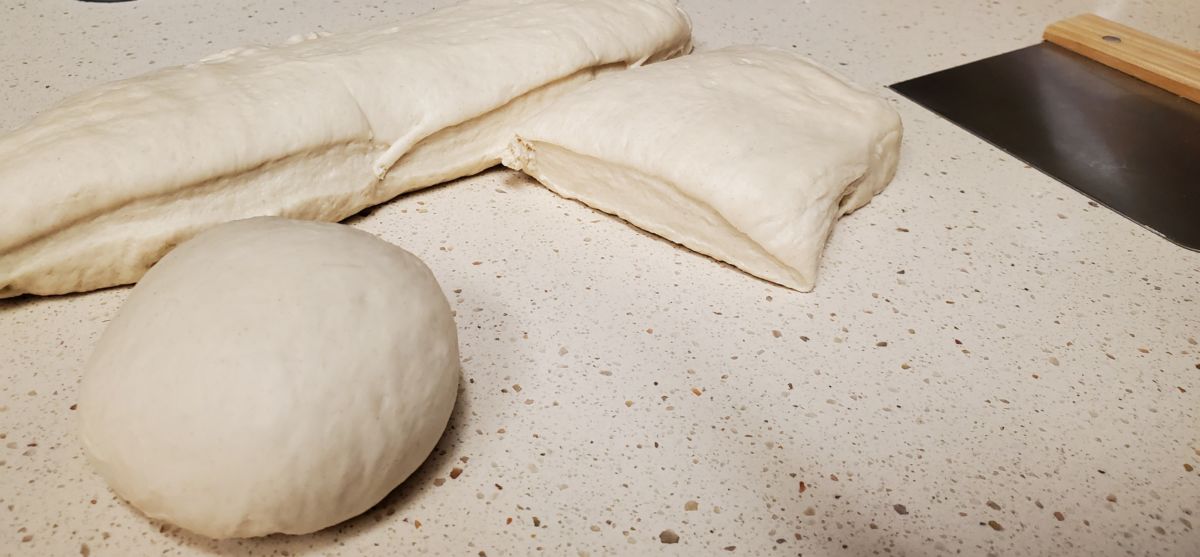 Like Playdoh!
Bagel dough is awesome. If you've baked, especially if you've made bread of some sort, you know that dough can be messy, sticky, and hard to shape / form especially in the initial stages. Bagel dough is refreshingly different. I guess recipes would officially call it a "dry" dough. To me, it's almost plastic-y in a good way. I can shape it more like Playdoh than like dough.
Truth be told, I enjoy bread dough and actually appreciate the feeling of stickiness between my fingers. But a little variety is nice, ya know?
Bagel dough is the most malleable dough I've worked with so far. I haven't tried toying around with that – yet – but just the dividing and twirling around my fingers to make the bagel shape are very seamless.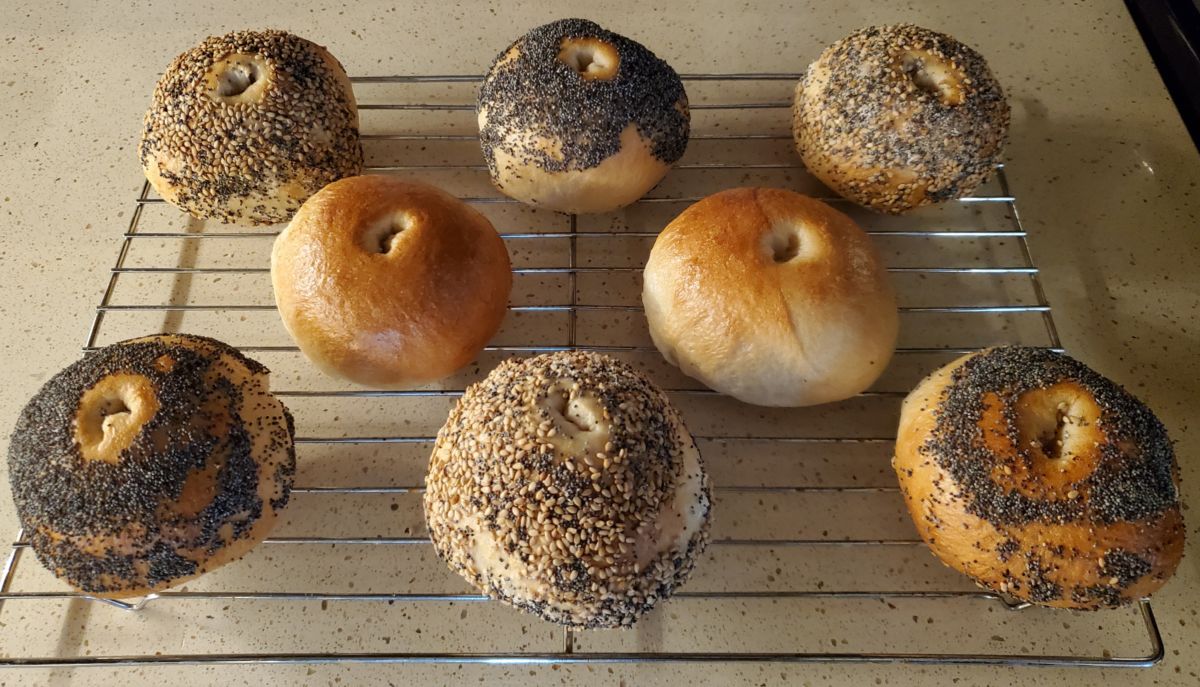 Next Steps
Next, I want to try blending some herbs, cheeses, etc. into the dough. I love doing that with breads and those are my favorite bagel flavors, so it seems like a win-win.
Now that I've learned the ropes, I also might experiment with adjusting the recipe to see how it adjusts the shape and flavor. I also think it'd be fun to try the fancy way of shaping the bagels where you roll the dough out and then twist it together.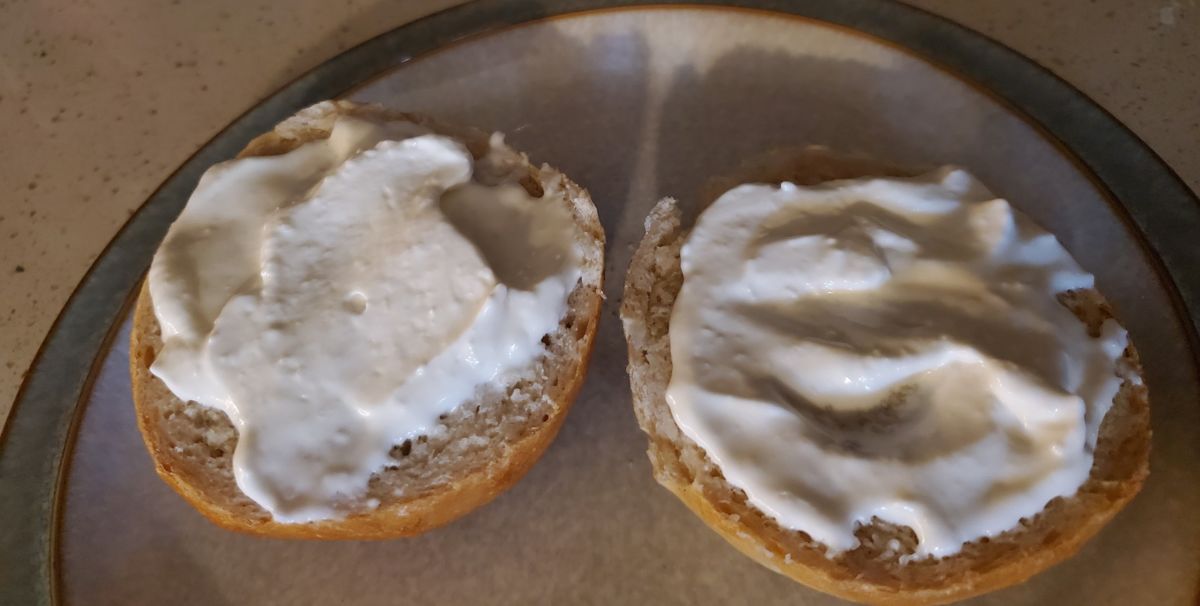 Cream Cheese 4 Life
A little side note. Man cannot live on bread alone, but this gal sure can. Especially if cream cheese topping was considered a major food group. The only time I've almost maxed out on cream cheese was with a loaded-up bagel in New York City. I did not think it could be done, but those bagel shops know the way to my heart is through giving me my own weight in shmear.
Naturally, I had to make sure there was cream cheese for my bagels. With the last batch of cream cheese, I blended in some homemade pickles. Yum! I'm going to have to try some other flavors using herbs and veggies from my garden. Now if only cream cheese grew on trees life would be perfection.