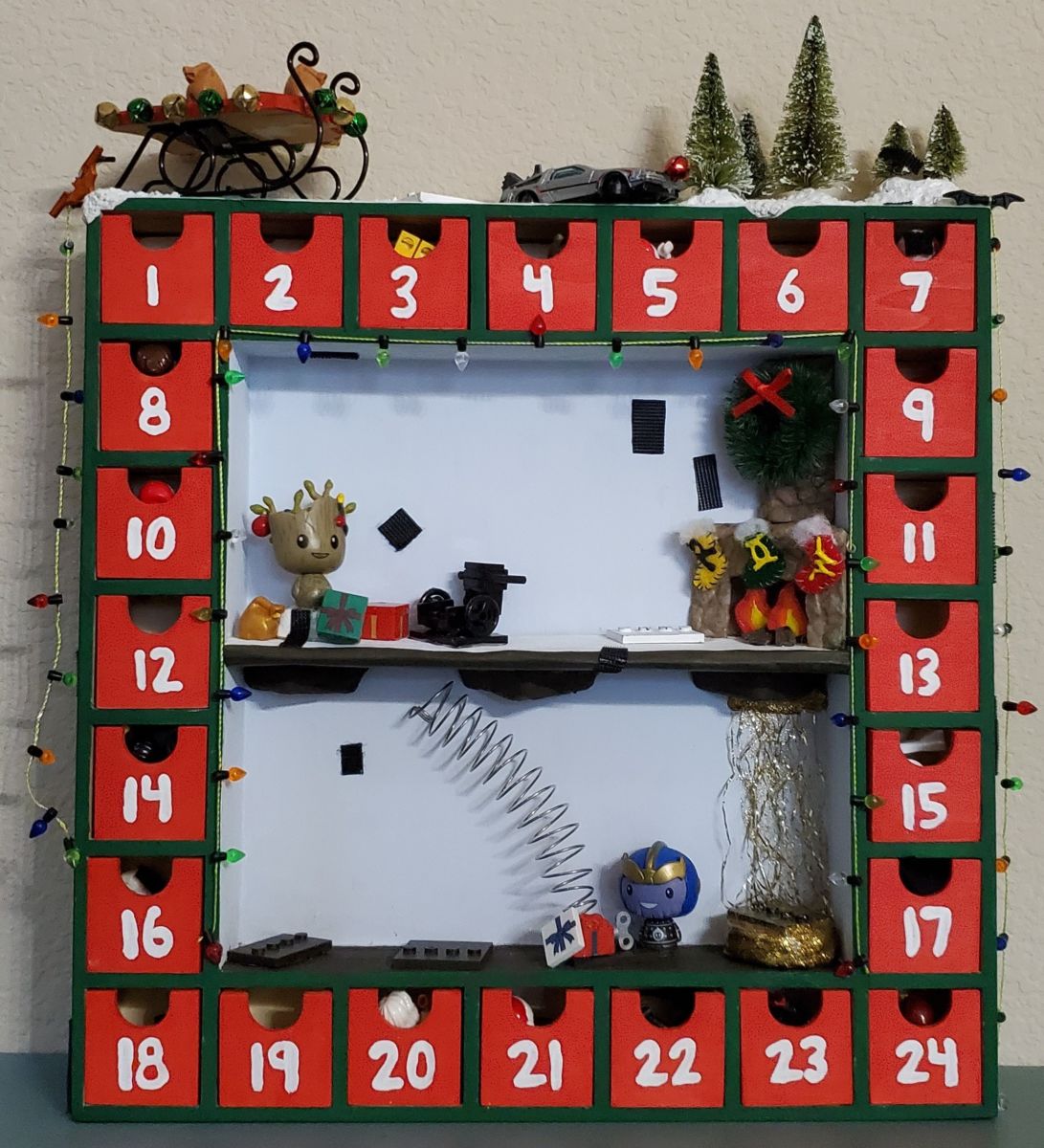 Final Christmas post! Man – I am WORN OUT from holiday baking and crafting. Does anyone else get exhausted just from being themselves? I'm sure there's some life-altering epiphanies I could have about that, but we'll save those for the new year.
Anyway, this is a craft I worked on for about a year. It is another example of not being able to find what I wanted, so I made it myself. I call it my nerd advent calendar. I am very proud of this thing, so I'm just gonna post a bunch of pictures of it. Hopefully, others find it fun, too!
Basic Layout
First, I have the basic layout for the start of December. After that you can see the end result you get on Christmas Eve. I actually have one more removable item I need to come up with, but 23 out of 24 done ain't bad!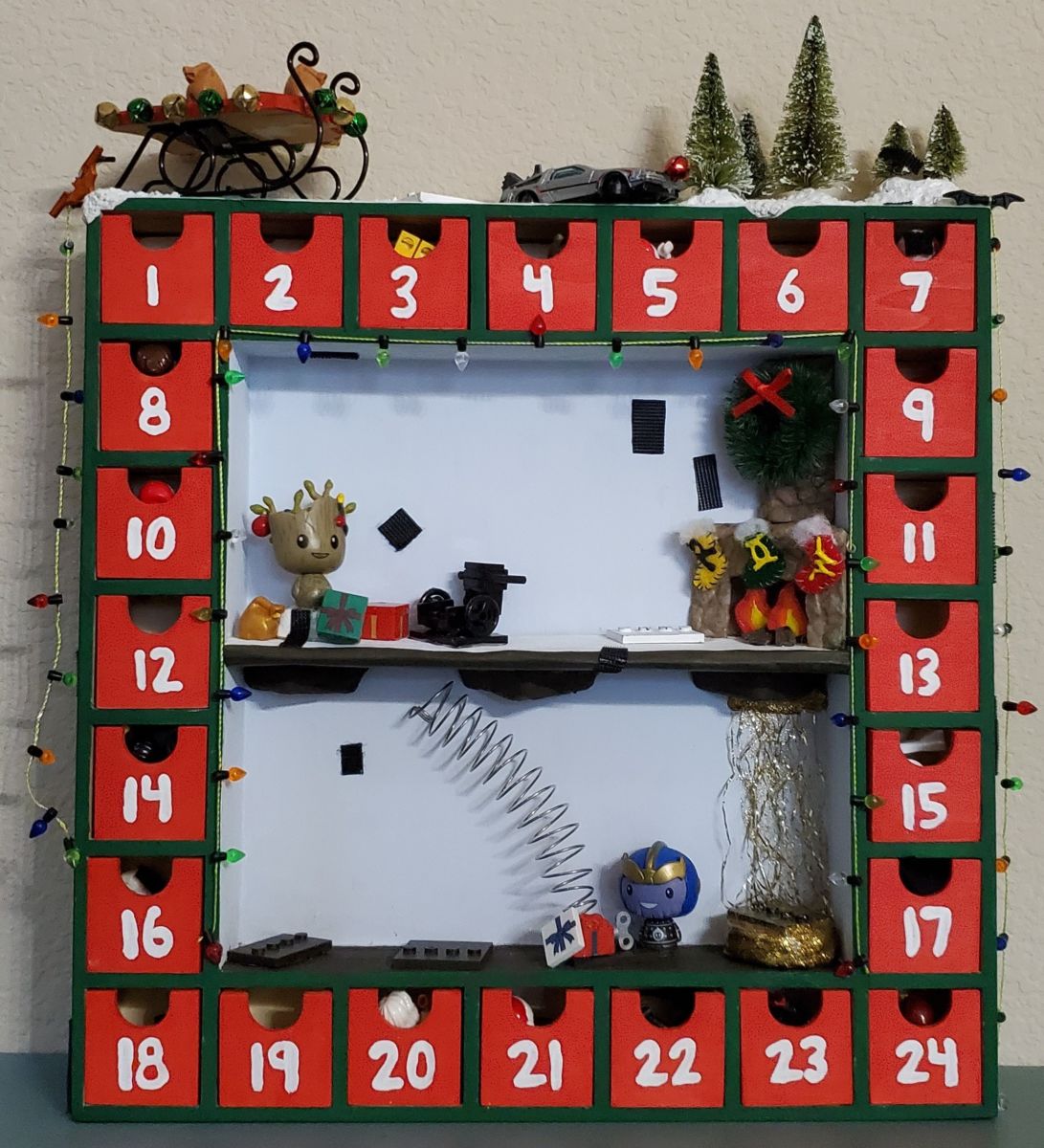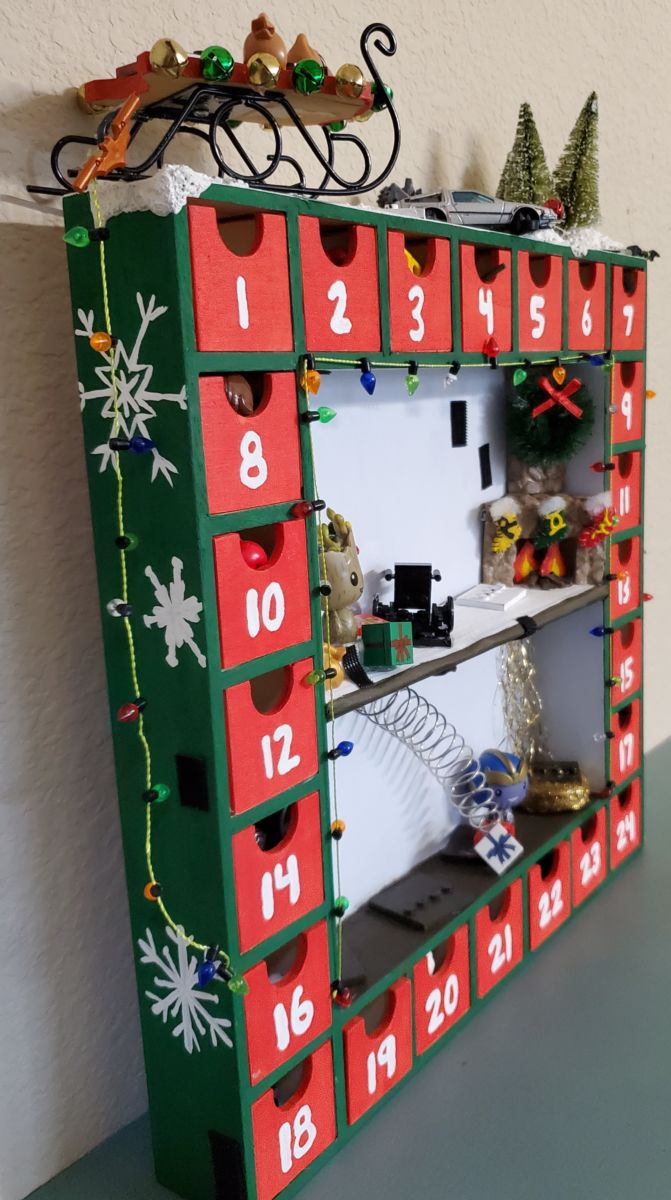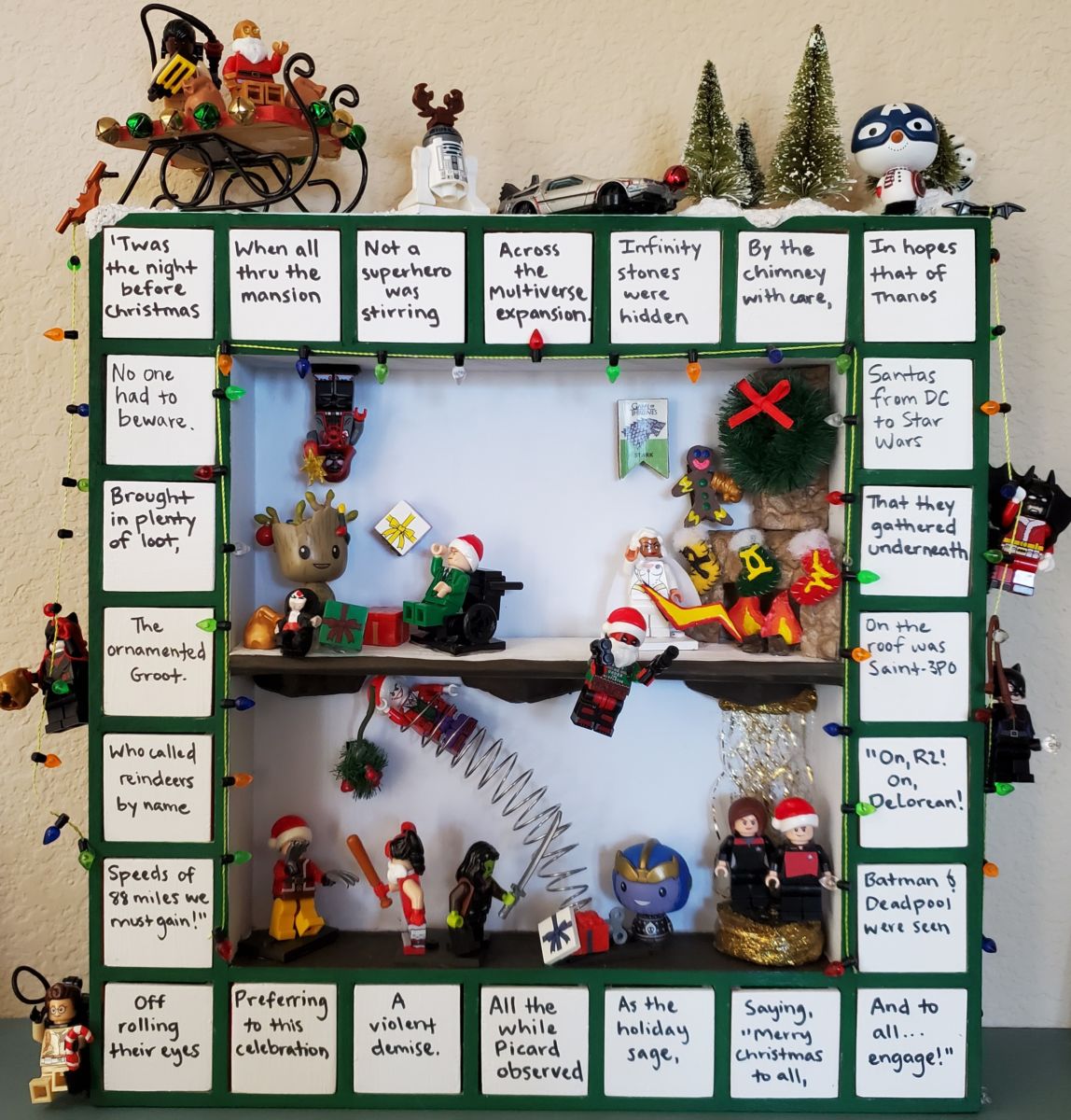 In case it's easier to read this way, I have typed out the poem:
'Twas the night before Christmas
When all through the mansion
Not a superhero was stirring
Across the multiverse expansion.
Infinity stones were hidden
By the chimney with care,
In hopes that of Thanos
No one had to beware.
Santas from DC to Star Wars
Brought in plenty of loot,
That they gathered underneath
The ornamented Groot.
On the roof was Saint-3PO
Who called reindeers by name,
"On, R2! On, DeLorean!
Speeds of 88 miles we must gain!"
Batman and Deadpool were seen
Off rolling their eyes
Preferring to this celebration
A violent demise.
All the while Picard observed
As the holiday sage,
Saying, "Merry Christmas to all,
And to all…engage!"
Top Row:
Ghostbuster Winston scanning presents for ghosts

C

3PO riding in his Saint-3PO sleigh

Reindeer R2D2

Back to the Future

De

L

orean

as Rudolph

Snowman Captain America

Stay Puft Marshmallow Man hiding behind some trees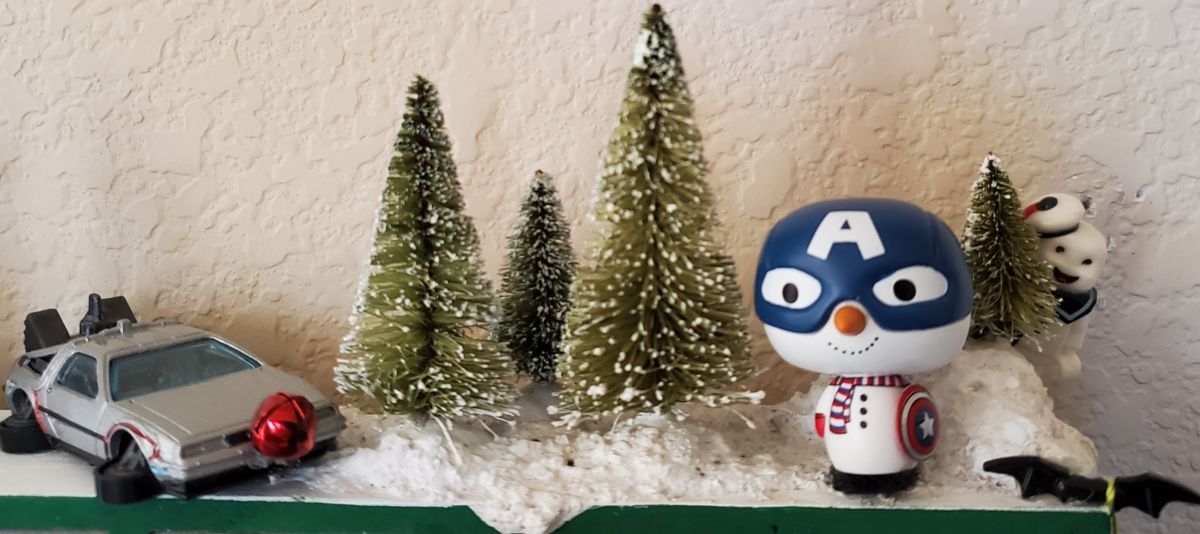 Middle Row:
Groot ornamented like a Christmas tree

Presents

including a Katana stuffed animal

Spiderman placing the star over Groot

Professor X

using his

psychokinetic

powers to place his present under Groot

Stark

banner from Game of Thrones

Storm lighting up the fireplace

Robin, Green Lantern, and Wonder Woman's stockings

A gingerbread man wearing Thanos' infinity gauntlet

Deadpool breaking the 4

th

wall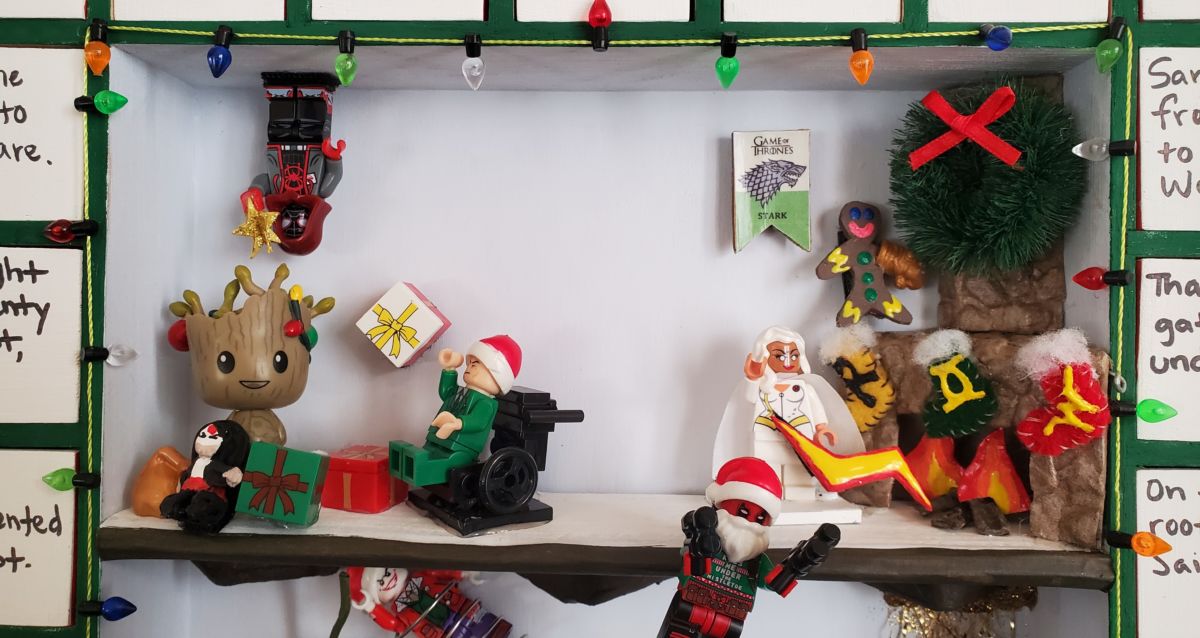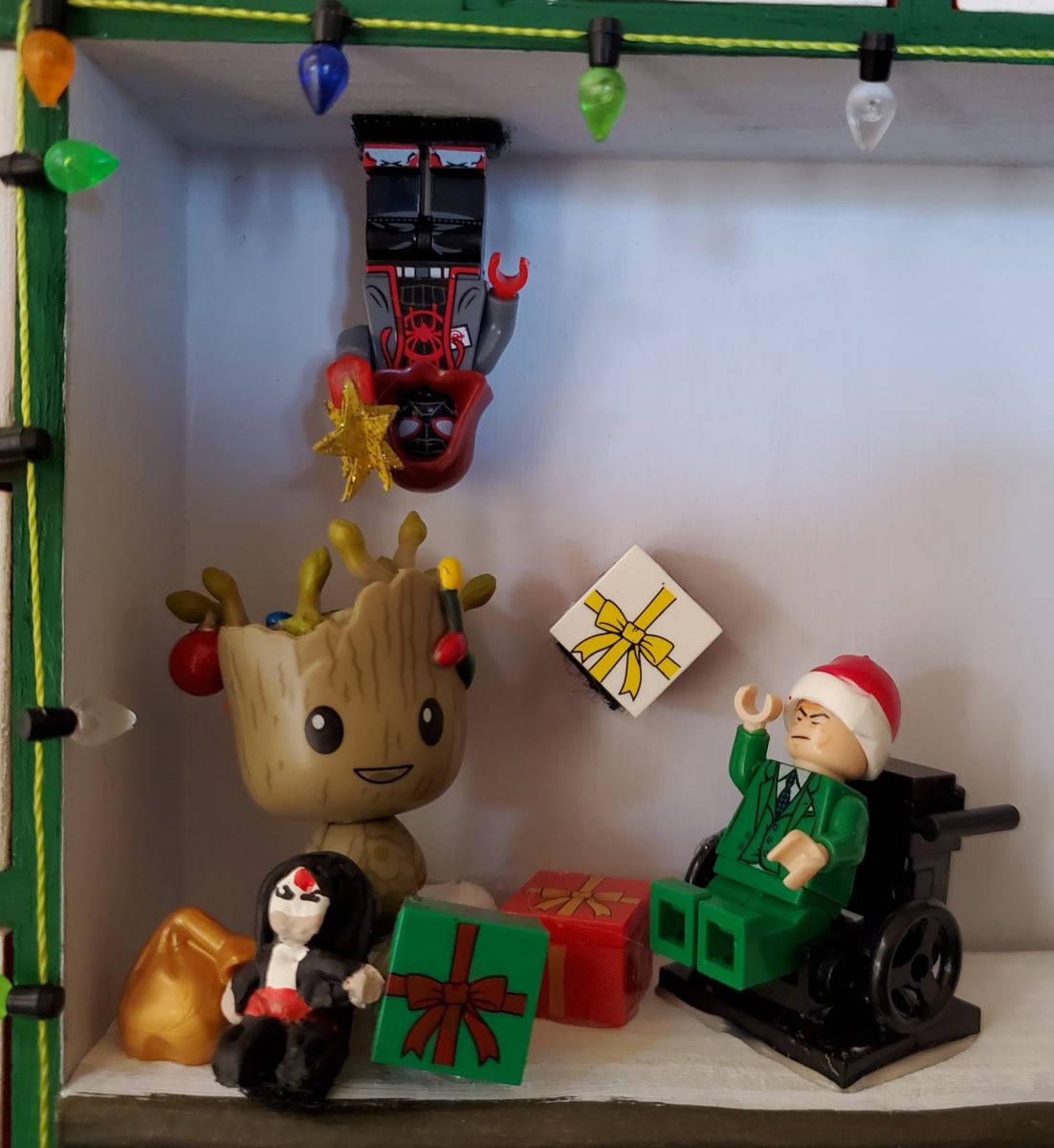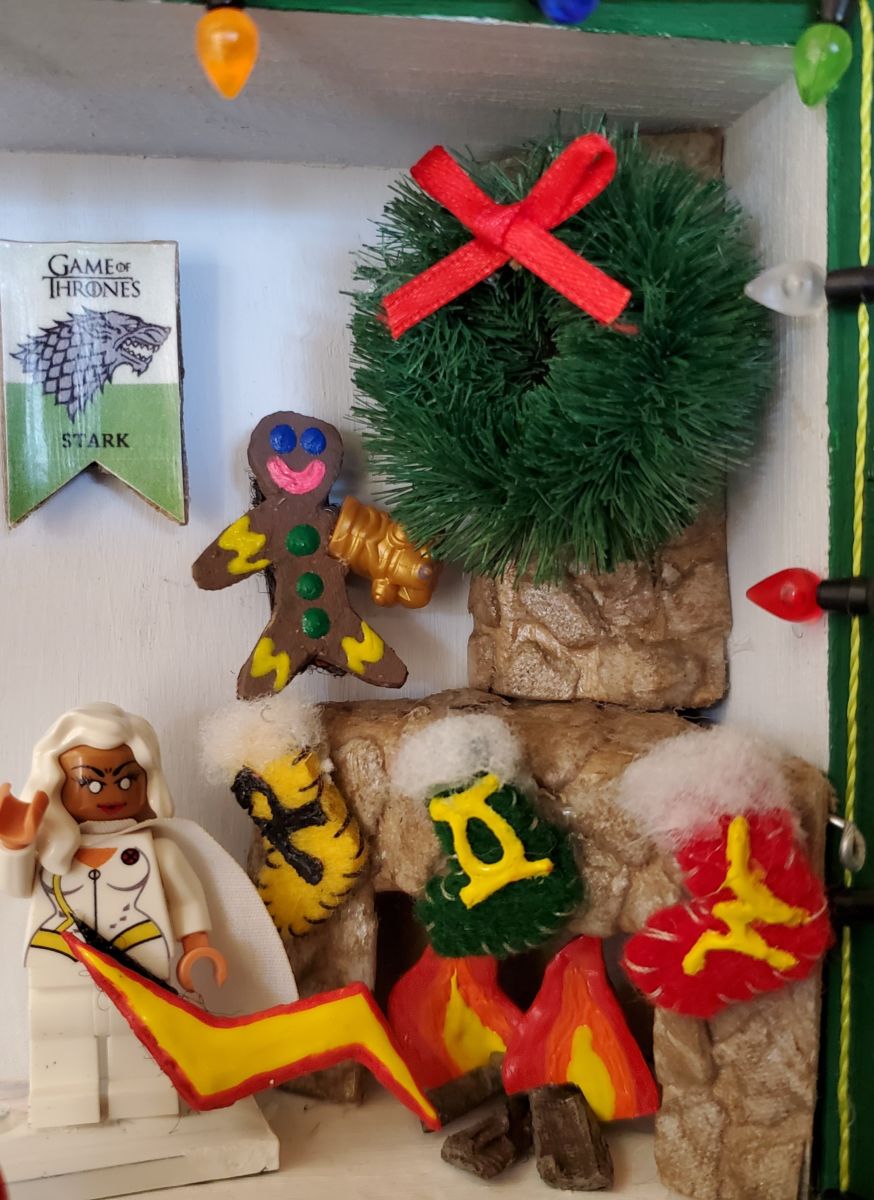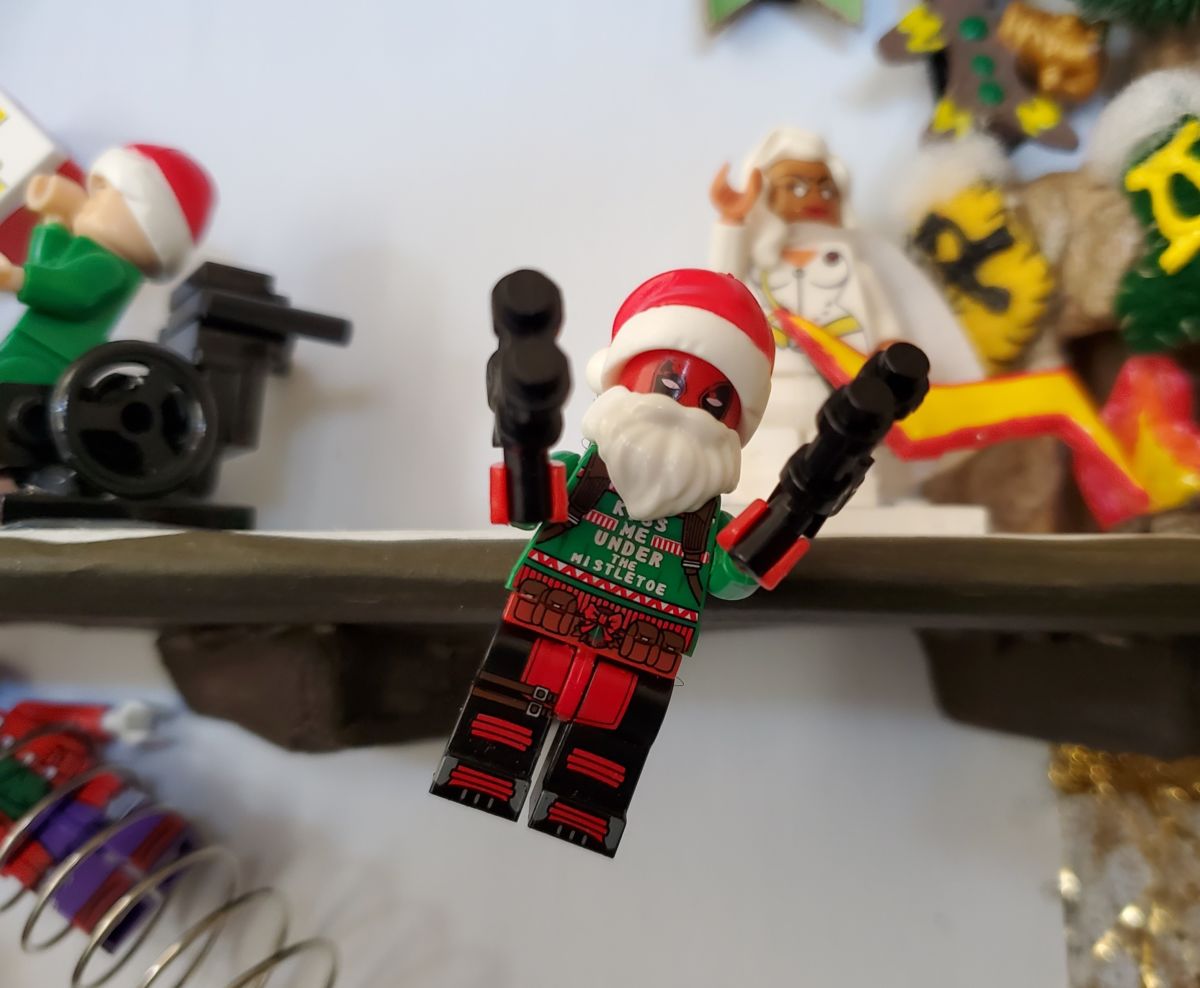 Bottom Row:
Wolverine defending himself against…

Harley Quinn

while standing underneath…

Mistletoe being hung by…

The Joker who is springing from a gift box

trap set by…

Thanos

Gamora trying to stop Thanos

Captain Janeway and…

Captain Picard beaming down to observe 21

st

century Christmas traditions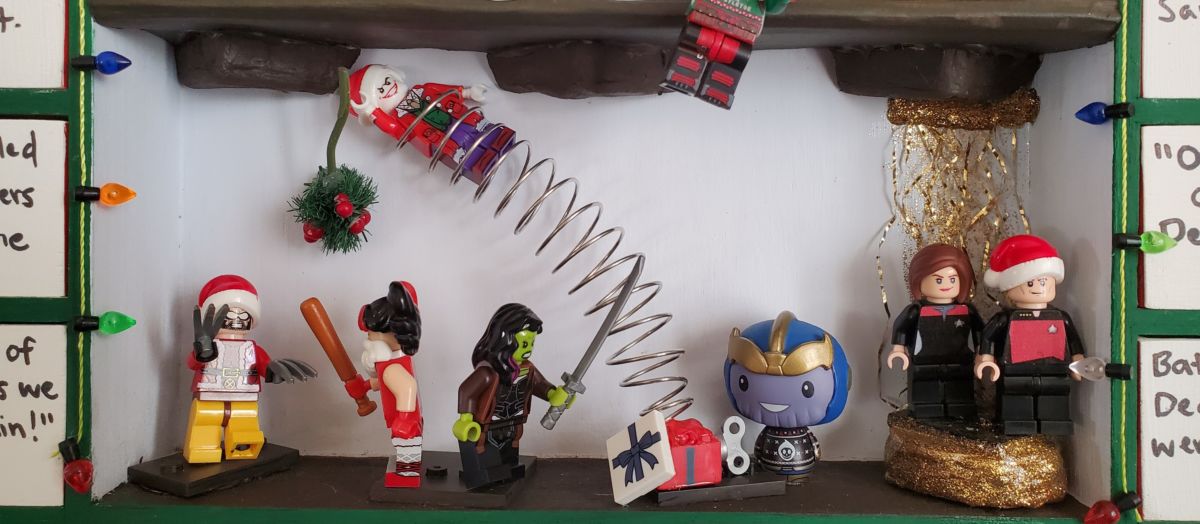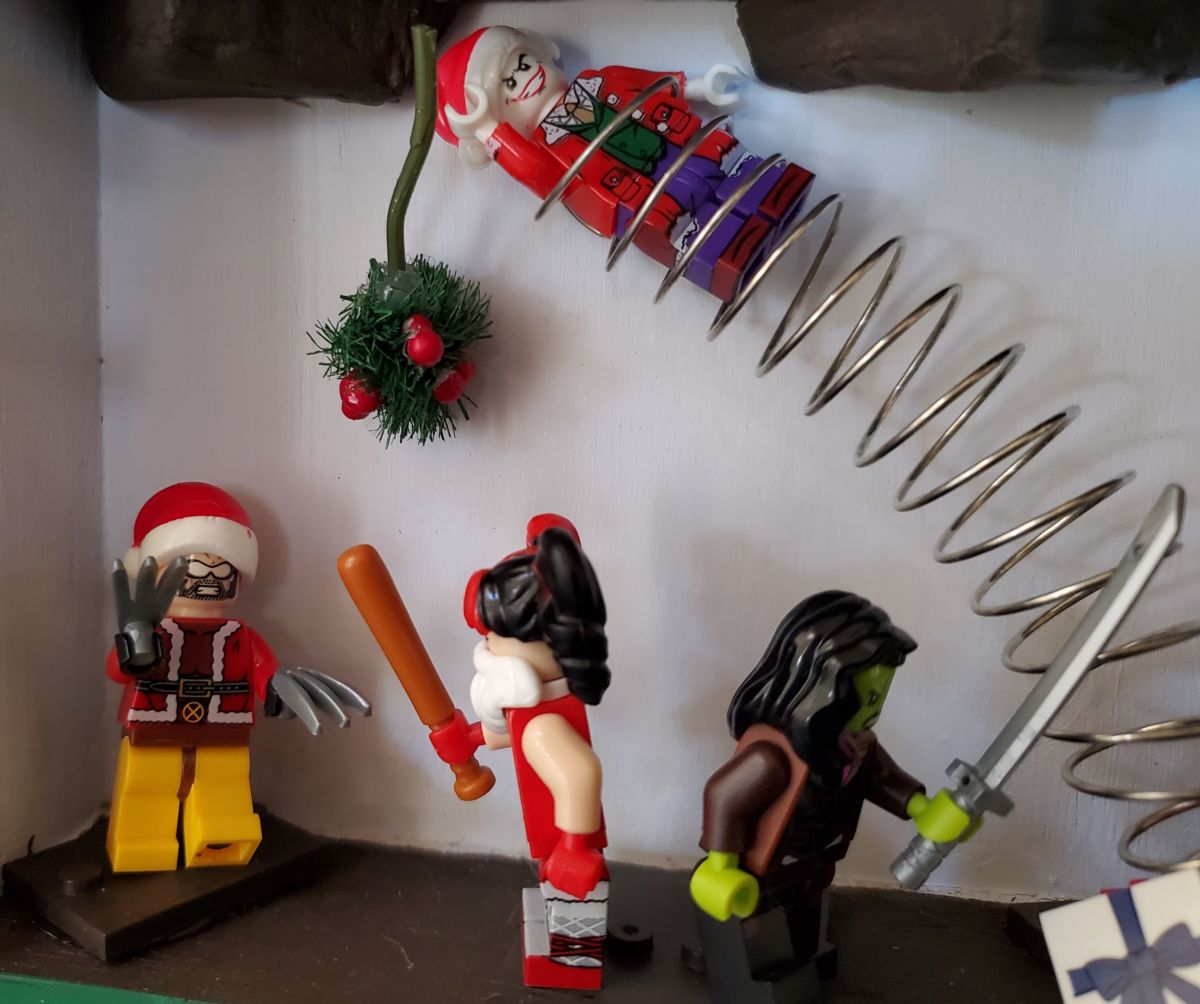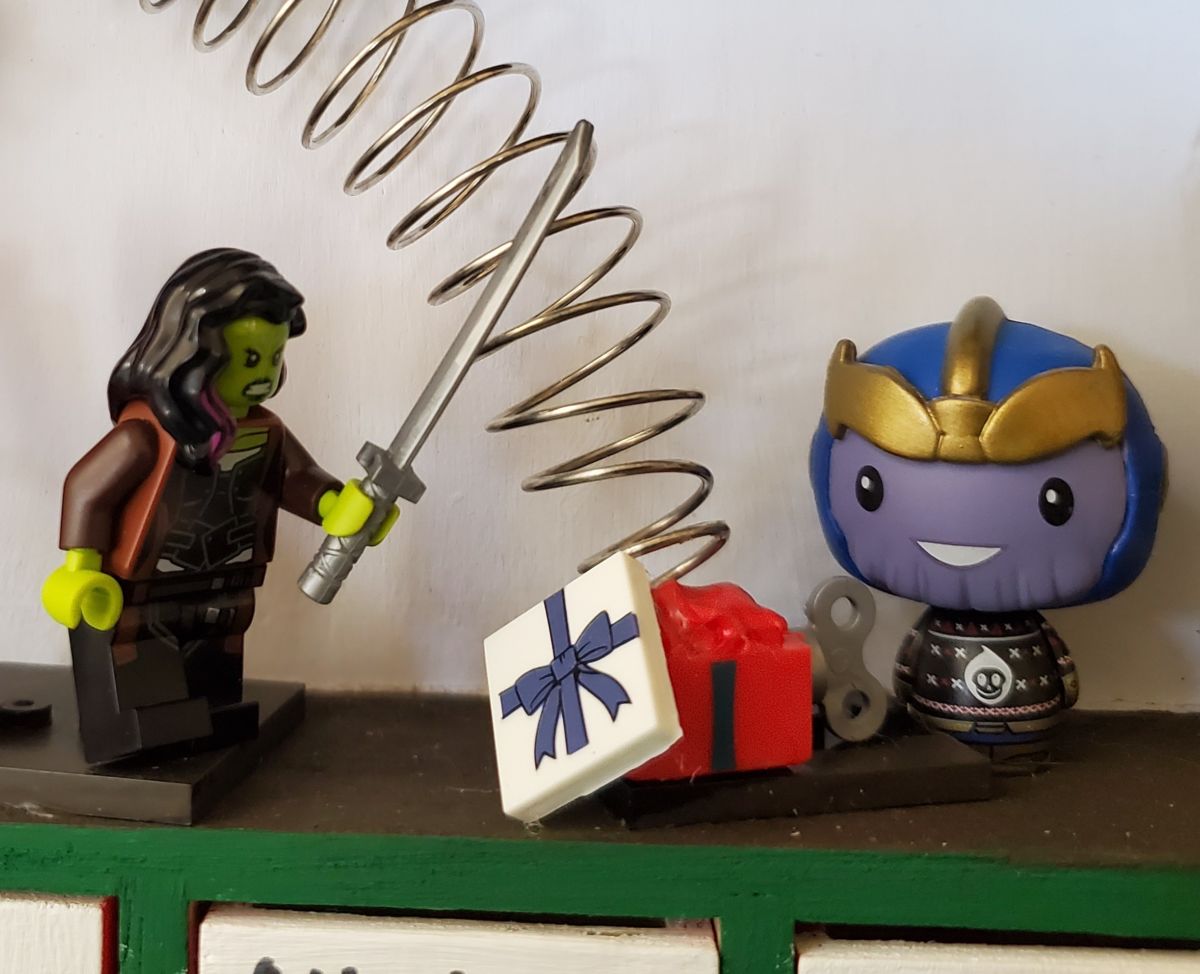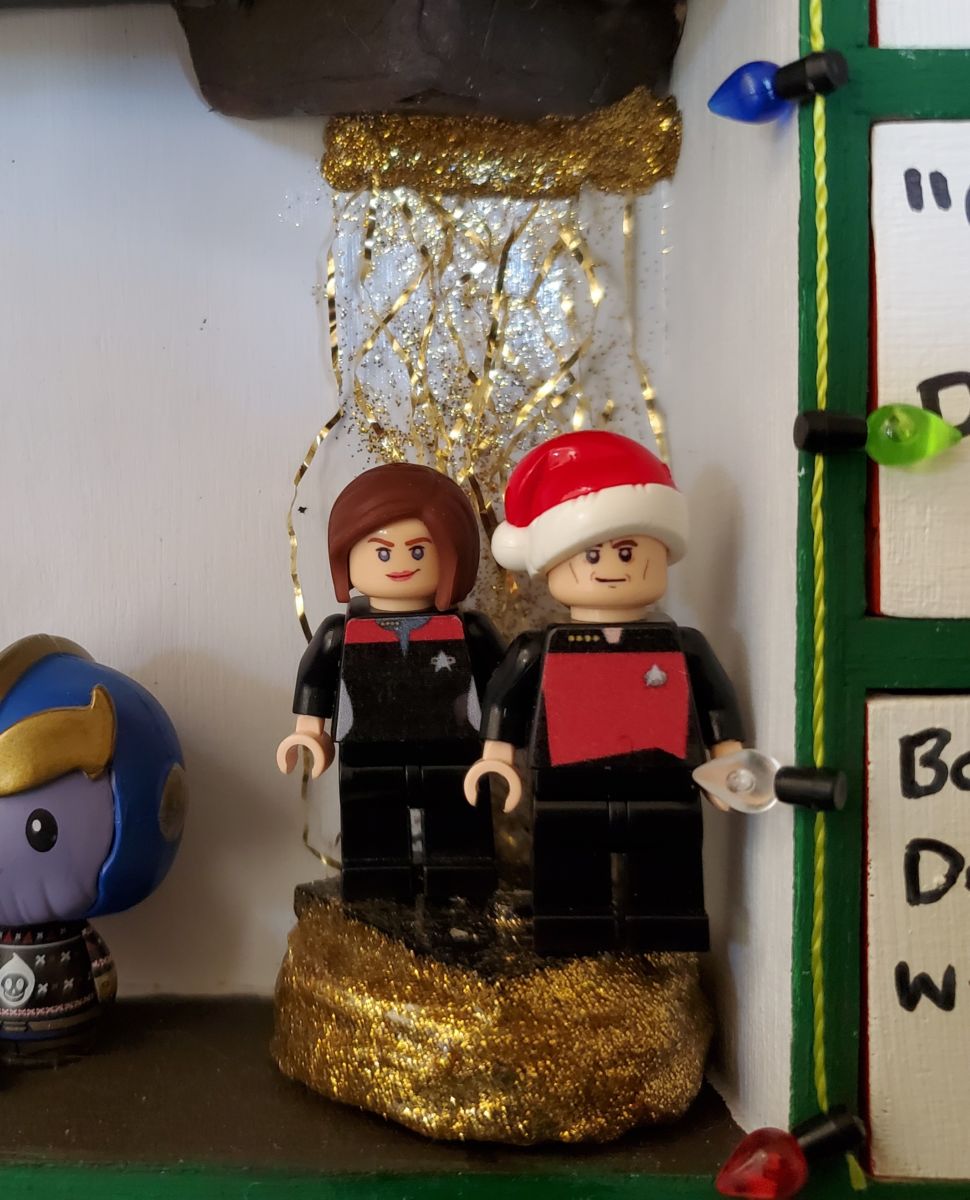 Sides:
Santa

Batwoman

rappelling with Christmas gifts

Ghostbuster Egon enjoying a candy cane

Santa Batman rappelling

Catwoman hitching a ride with Batman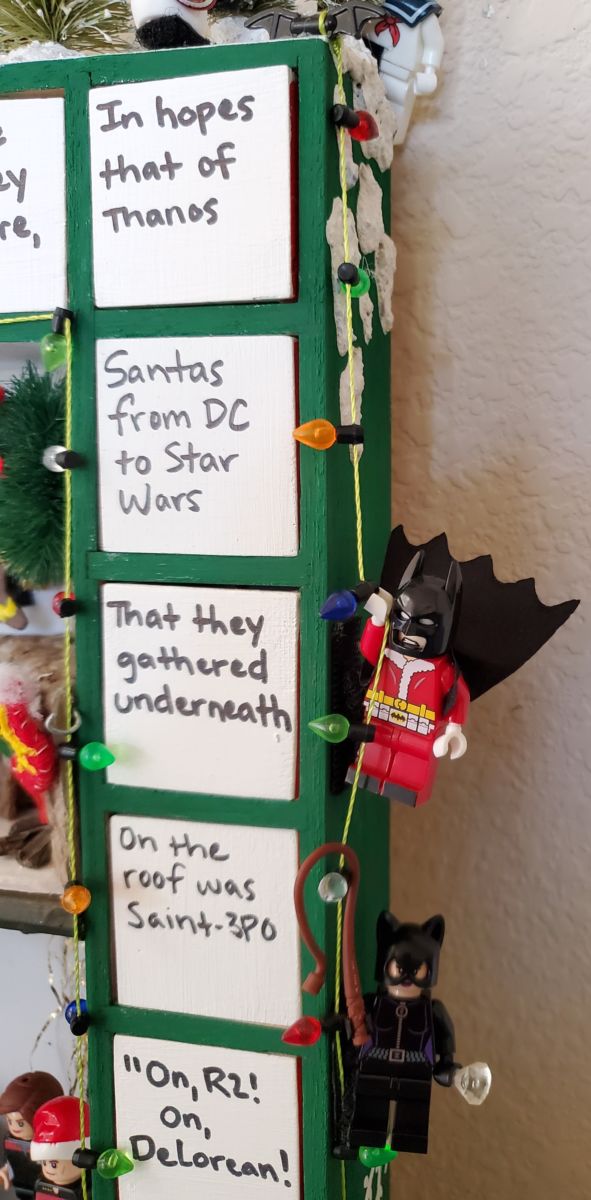 And that's all, folks! Now if you'll excuse me, I'm off to go pretend that it's socially acceptable to leave all my Christmas decorations up until February.